Australia
Australian cricket legend Brad Haddin has advised that India cricket star Virat Kohli take time out from the game. He claimed that skipper was becoming too aggressive, choosing to hail the style of stand-in captain Ajinkya Rahane when Kohli missed the fourth Test due to shoulder injury.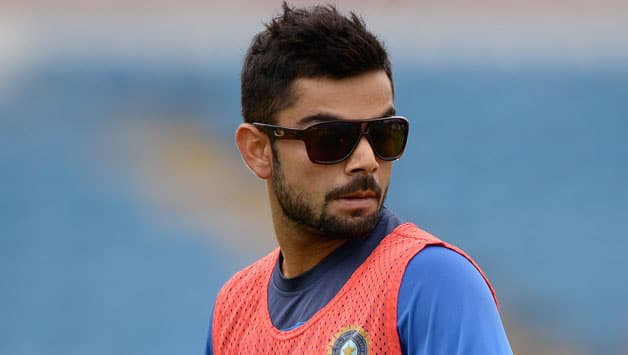 Haddin says the visible presence of Rahane contrasted from Kohli's fierry demeanour, adding that it was obvious in the series. Kohli's injury would force him to miss the start of the IPL but there is a planned assessment in the second week of the April to see if he could return. (more…)
Following their recent wedding ceremony blessed by the spiritual leader of the dera at a location chosen by the mother of the groom Yuvraj Singh, the newly wedded couple continued the celebrations as they moved further to the capital for a lavish reception to be held at a posh hotel.

The wedding had seen the couple adorned in lovely apparels with the new bride looking gorgeous in a stylish lehenga in blue and golden, accompanied by soft curls and gold toned earrings.
A sherwani that was so sewn in such a way to match the print of Keech'slehenga ensured that Yuvraj, the new groom looked his dapper best.
The final round of the celebrations which was being hosted by the newlyweds in a posh hotel at the capital saw a lot of glitz as stars and celebrities from both the sports and entertainment world were all on ground to party with the newest couple.
Sourav Ganguly was also at the event, where he took a picture with the lovely couple. And with his presence at the event, Yuvraj's joy would have been multiplied by manifolds as the pair share a special bond. (more…)
Yuvraj Singh is being seen with a new number at the back of his jersey this IPL.
He has always used jersey no. 12 in his career, but, in the ongoing IPL, it's 3.
Everybody is trying to find out what's the reason for him to go for a change in number.
Yuvraj yesterday tried to give the impression that there is no specific reason behind the change in his jersey number. Actually, some other player in the squad wanted to have no. 12. So, he decided to go for 3. That's what he said.
But, knowing Yuvraj, one can say that he is one of the most superstitious Indian players and he cares a lot about these things, the numbers and all. So, he would not just casually get ready to have some other jersey number. There must be somebody who has suggested him to do so.
However, this new number is not bringing that much of luck for Yuvraj
He is struggling with the bat in the ongoing IPL. Out of the 5 innings that he has played so far, he has just had one good score to his name. He has not been able to do anything substantial bowling wise either. (more…)